ROLLERS PRODUCTION &
ROLLER MANUFACTURING TURKEY
This blog post focuses on industrial Roller manufacturing in Turkey and Turkish roller manufacturing, rolls, roller production in general.
Rollers are commonly used components that facilitate and process material and product motions in manufacturing and/or industrial environments. While normal rollers are those that actually touch the material, conveyor rollers are also available for use in conveyor applications. There is almost certainly a roller system which is a great fit for any industrial application. The roller material at the site of contact with the material or product is the key differentiator between rollers since it affects the function, shape, and available features of the rollers. Simply put, rollers are classified into three types of materials. 1) Urethane/Rubber, 2) Metallic, and 3) Resin are the three types of materials.
Here in OGGO Tech we are specialized in steel roller manufacturing for various industries including but not limited to steel, mining, energy, conveyor, machinery, pulp and paper, printing packaging etc. We start a project from scratch and deliver fully satisfying parts for your needs. We supply all types of materials, we design, we operate all milling and turning processes, our operators are experts in the area for CNC operations, we take every further step for dimensions, finishings and all processes. OGGO Tech is one of the leading manufacturing companies in Turkey for industrial roller operations.
Pulling Rollers
Conveyor Rollers
Flattening Rollers
Washing Rollers
Cylinder Rollers
Stainless Steel Rollers
Etched Rollers
Gelatine Rollers
Plastic Rollers
Extruding Rollers
Steel Industry
Plastic Industry
Packaging Industry
Textile Industry
Machine Manufacturing
Recycling Industry
Automotive Industry
Mining Industry
Printing Industry
Pulp and Paper Industry
Textile rollers are a type of roller that is used in the textile industry. There are numerous textiles available, each with its own set of material, structure, and elasticity characteristics. This is why, in the refinement of textiles, a roller coating that is ideally matched and the application is so important. One from OGGO withstands the specific chemical and heat load, also wear-resistant, and ensures the highest quality with its 100 percent precise dimension. Our deflection, lay-on, squeezing, and padder rollers, and high-performance squeezers that match the highest criteria, produce strikingly appealing materials. For all finishing operations, they are coated with approved and tested materials. Traditional, modern, and technologically unique textiles all benefit from this treatment. The most diversified materials handled with OGGO rollers get a high quality outcome.
The qualities of coated surfaces matched to the unique application for special finishing. Throughout the process, our rollers are dependable and regularly produce good results.
Roller Manufacturing in Turkey
Because of the correct hardness, controlled dynamics, and high manufacturing tolerances, processing metal with OGGO rollers is simple. Here, as we manufacture rollers in Turkey, a roller from OGGO that fits flawlessly with the system, functions exactly, is simple to maintain, and overcomes the remarkable mechanical, chemically, and thermal problems while retaining perfect stability.
Materials with sharp edges The surface qualities of a roller are put to a lot of stress during machining and refining. As a result, an elastic roller coating is an especially important component in limiting wear and avoiding incisions in the roller or cover intake. Steel, stainless steel, and non-ferrous metal rolled strip materials are simple to process with our highly technical rollers and rolls. They are elastically coated to ensure that your product receives the best possible pre-treatment, finishing, post-treatment, coating, and strip processing. We're available for you with our experience as a partner, even for unique product ideas. OGGO rollers and roller manufacturing Turkey are dependable at every stage of the process and reliably produce outstanding results.
With our rollers and sleeves, put the focus on plastic, paper, and cardboard packaging: visually appealing thanks to specific embossing, printing, and varnishing possibilities. Every packaging solution, from a fiber to a very thick substrate, from crinkly foil to securely crimped laminated layer, from smooth surfaces to wavy, necessitates unique processing. For this reason, a highly technical roller coating or a carefully designed sleeve is a must-have for a flawless print job. A roller from OGGO that is resistant to oil, solvents, UV, ozone, and is antistatic or abrasion-resistant, based on the demands.
Individual variations of various materials are combined with perfectly matching rollers and sleeves from our broad inventory. You can print, polish, and process plastic, paper, or cardboard to the greatest possible quality this manner. OGGO roller manufacturing Turkey and rollers make high-precision etching and high accuracy color transitions for visually stunning packaging a breeze. At all stages of the process, all sleeves and rollers are dependable and reliably give outstanding results.
Plastic films that are extremely thin are extremely sensitive, and they might wrinkle and fold during manufacturing. As a result, in the production process, a durable roller coating is critical. A roller manufacturing Turkey from OGGO that works efficiently thanks to a durability and is particularly ideal for all water, solvent, and Ultra violet color systems, depending on the application. Our polymer materials, which have been specifically created for your film, can achieve sensitive coordination. This allows you to produce extrusion, stretch, and blown films with exceptional qualities. We have the perfect answer for all of your unique processing needs. Defined surface patterns are also achievable with our unique silicone rollers.Effortlessly crease-free and simple as a breeze: Wrap films around the rollers using OGGO rollers, including the specifically developed spreading layer. It's all down to a property that eliminates marks while completely smoothing the film without causing excessive elongation. Throughout the procedure, all rollers are dependable and regularly give outstanding results.
Etched / Marked Roller for Pulp & Paper Industry
Why choose steel rollers?
And why manufacture rollers in Turkey?
Steel rollers are frequently selected for their long-term durability. Rollers will be exposed to a lot of mechanical damage in an industrial setting. Steel ranges from 65 to 100 on the Rockwell B Scale (selected for reference purposes with aluminum), while aluminum measures in at 60. The harder the material is, the greater the percentage on the Rockwell Scale. As a result, steel will outlast aluminum, resulting in lower replacement and maintenance expenses. Roller manufacturing in Turkey with OGGO Tech is so easy, not to say keeping jobs on track rather than wasting momentum when a conveyor system fails. In settings where the rollers must resist higher temperatures, steel is chosen over aluminum.
Steel vs. plastic conveyor rollers
Plastic conveyor rollers are popular in food-related businesses and processing plants, where equipment is subjected to regular washing process and highly corrosive treatments as mandated by FDA and/or FSMA standards. In these settings, untreated steel may rust and require replacement.
It's worth noting, too, that stainless steel conveyor rollers are a popular alternative to plastic rollers in this application. Stainless steel is a common pick for situations with tight hygiene requirements since it is easy to clean, corrosion resistant, and easy to maintain.As a result of their longevity, steel conveyor rollers beat plastic rollers in heavy industrial applications.
Who is using steel rollers?
Steel rollers are widely utilized in conveyor systems in a wide range of industries, including mining and construction. Conveyor rollers and systems are required in large-scale shipping, packing, distribution warehouses, manufacturing plants, recycling facilities, and small fabrication shops.
Steel rollers can also be found in rolling and grinding mills, as steel's density and strength are advantageous for crushing ore, grain, polymers, and softer minerals. Steel rollers are used in etching presses in conjunction with plates to press prints onto paper, which is a relatively unusual application of steel rollers.
Steel rollers and their parts are made to meet a variety of requirements:
Material: Industrial Steel, galvanized steel, stainless steel, zinc-plated steel, or even a steel-aluminum alloy
Finishing: Coatings on the surface Corrosion resistance can be increased by coating the steel.
Option: Straight, concave, flanged, or tapered are the different types.
Dimensions of the roller: Conveyors come in a variety of sizes, ranging from 5/8″ to 8″.
Rating for load: What is the greatest capacity that the rollers can handle?
Wall thickness and tubing wall thickness
Because they can support a significant bearing load with a moderate contact, these rollers are specifically intended for sustaining heavy part movement. Roller manufacturing Turkey and Metallic rollers, or rollers in general, are used to transport heavier weights where the workpieces can withstand a little rough treatment. These rollers come in a variety of diameters, with bearing, setting screw, or mounting options, and are available in flat or crowned geometries.
Urethane/rubber rollers: These rollers are typically used in applications that need high contact and retaining friction forces. They're also used in more sensitive procedures like paper and/or plastic film processing/smoothing wrinkles. Where parts cannot withstand damage to the surface or the component as a whole, these types of rollers are used. Rubber rollers are also used in material processing applications that need a light material, such as paper, textile, or sheet metal fabrication or processing. In this manner, they are even used in the sheet metal business, where low gauge steel plate is coiled up into big rolls and the sheet metal's surface finish integrity is critical.
Resin rollers have a similar purpose to rubber/urethane rollers, but they are essentially metal core base rollers that have had a resin coating applied to the surface. These rollers are comparable to urethane or silicone rollers in that they are utilized in applications that demand a soft touch and where ink or resin finishes must be applied. They are commonly utilized in industry for packaging and/or polymer material warehousing applications in addition to industrial material moving uses. These rollers are only available in a straight shape, although they can be ordered with bearings or bolt hardware on the side.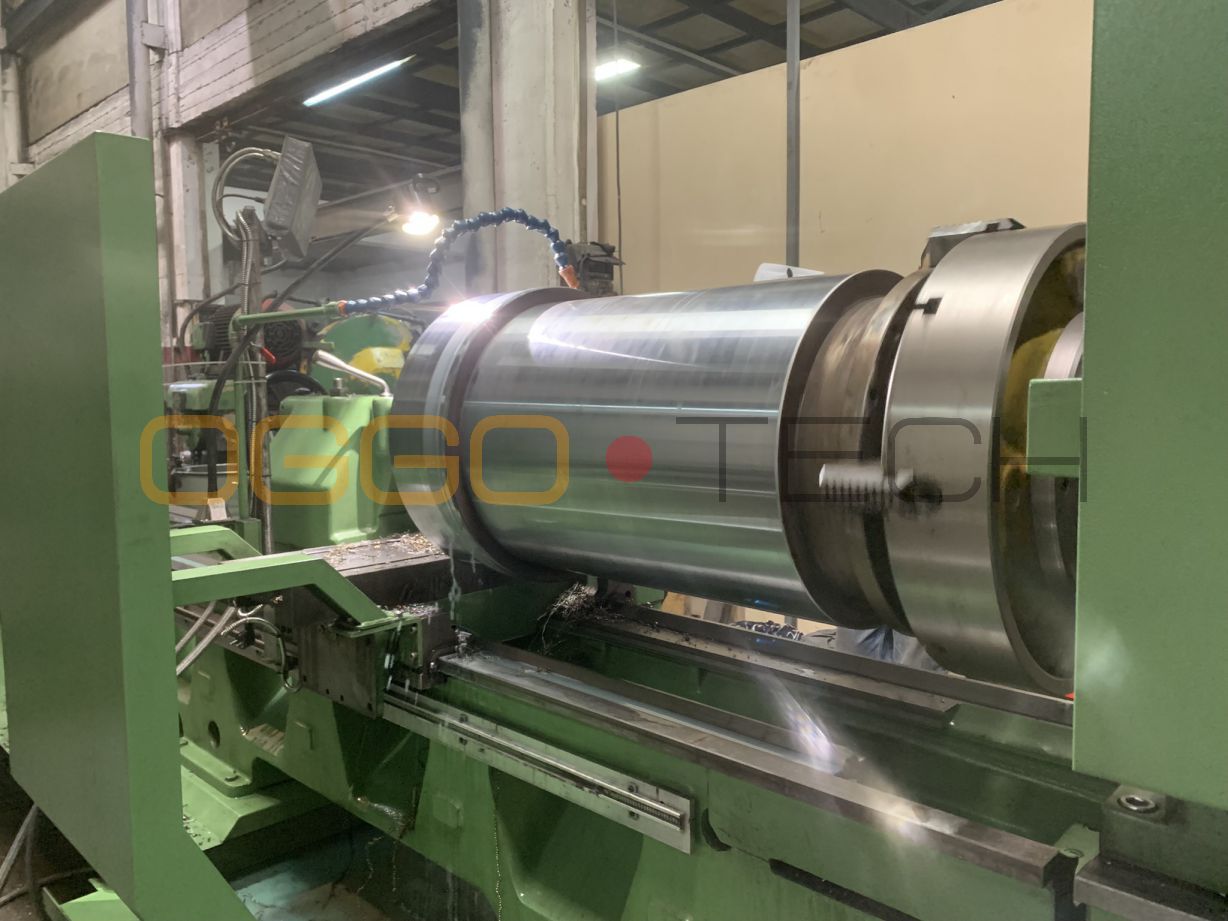 Manufacturing in Action
Here is a shot from OGGO Tech manufacturing lines, over 1100mm diameter and 1600mm length. Material is industrial steel and further finishing will include chrome plating. One of our projects for Germany.
Solid Rollers can be customized with a variety of mounting components, such as shafts and bearings. They come in a variety of shapes, including a straight profile, a crowned profile, and a barrel-shaped roll profile. Because solid rollers are often sturdy enough to withstand high workloads, these rollers do not come with an incorporated driveshaft. These are possible to manufacture in Turkey,For some metallic alloys, these rollers can be specified as hollowed cylinders with slots on the ends for bearing and other equipment mounting. Sizes that are available: Sizes range from 8mm to 1200mm in outer diameter, with lengths ranging from 50 to 4500mm.
Pipe rollers are comparable to solid rollers, however they are hollow pipes rather than solid ones. At the mounting ends of the roller, they are usually supplied with integrated roller bearings. As a result, the pipe roller is lighter than solid metal rollers, making it easier to physically manhandle and remove for maintenance. And roller manufacturing in Turkey is our expertise. However, since these rollers are empty, they do not have the same load-bearing capability as solid rollers. In both urethane and aluminum rollers, pipe rollers come with a range of attachment options.
Conveyor rollers support the loads on conveyor belts. By their very nature, these rollers are smaller. Conveyor rollers are used as driving shafts for track conveyor systems rather than carrying products directly. Since they must be able to transfer torque loads as a consequence of the conveyor payload, these rollers are often made of tough carbon/hardened tool steel. For harsher industrial applications, they can be selected with or without a chrome surface finish, and they can even be ordered with incorporated motors and drive shafts to simplify the design of custom-built belt drive systems.
https://web.archive.org/web/20131203011933/http://www.skf.com/files/519900.pdf
https://www.mcmaster.com/catalog/116/1070
https://www.sciencedirect.com/science/article/abs/pii/S0924013605004401?via%3Dihub
https://ui.adsabs.harvard.edu/abs/2005JMEP…14..373C/abstract
https://cordis.europa.eu/project/id/221967/reporting
https://www.sciencedirect.com/science/article/abs/pii/S0378517312008745
https://www.researchgate.net/publication/297767933_A_review_of_failure_analysis_found_in_industrial_roller_chains
https://blog.iseekplant.com.au/blog/what-is-a-roller
Design & Planning
First contact with OGGO Tech will be a throughout communication to reach the perfect processes. Our expert designers and engineers will provide the assistance and details.
Production & Finishing
A confirmed project will enter our manufacturing lines, supervised by the production managers and under constant improvement.
Delivery & Feedback
After the project is finished and delivered, our assessment team will rapport a total, top-down and bottom-up process, so that we know we are happy.